Foundation underpinning provides a way to strengthen, repair and sometimes increase the depth of your foundation. Foundations often deteriorate over time because they have been exposed to excess moisture and other environmental forces.  Here in The Bay Area, with so many older homes, non-livable basements and crumbling foundations are common.
Whether you have foundation issues or you want to remodel your home in The Bay Area, it's important to choose a quality contractor in The Bay Area to help you.
Underpinning can be done in many ways and in order to make the right choice, it is necessary to understand the structure of the foundation, the supports which are used, and the factors that caused the foundation to weaken in the first place. Underpinning works with load-bearing walls so professional help is highly recommended as this is definitely not a DIY project.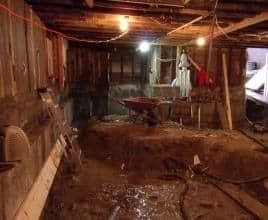 Underpinning is often needed if your home has substantial cracks, heaving or buckled walls. Unstable soil is also a reason to underpin a home. Unpinning ensures the foundation is restored so it is strong enough to support the structure above. There are many methods of underpinning.
Concrete Underpinning
Concrete underpinning is one of the most common methods where mass is added to improve strength.
Beam and Base
Another method involves a beam and base.In this system, piles are installed on either side of the affected wall. The type of pile used is determined by the strata below. A reinforced concrete beam is installed between the beams to support the wall and the existing material between the piles is removed. The construction of the beams depends on the architecture of the structure built on the foundation. The beam and base technique is often chosen as it is quick and less disruptive than concrete underpinning. It is also capable of bearing a very high load and can be used in very tight spaces.
Screw Piles and Brackets
This method is used when traditional underpinning is not possible. Installation does not require a large crew or a lot of equipment.
Screw piles are installed in the foundation and are designed to withstand many stresses. They are ideal when used with underpinning support brackets as the structure can then be returned to a level position. The weight of the foundation is then distributed to the bracket system. They are relatively quick to install and cause little damage to the surrounding area.
Piled Raft
This method is used when the whole foundation needs lateral and traverse reinforcement. It is often when there is a deep foundation or if there is very hard soil. Piles are placed based on the load with reinforced beams beneath them. Finally, a ring beam links all of the reinforced beams together and concrete is poured.
Wall Anchors
Wall anchors can be installed in areas with limited access and without the use of heavy machinery. The anchors are designed to provide lateral stability to existing foundation walls.
Mudjacking
This method may be chosen if a structure is settling, but it is not a good solution. Holes are drilled, either into the slab or under the foundation, and then concrete is pumped into the holes. The extra concrete spreads and is supposed to eliminate settling, however it does nothing for the bedrock below. Mudjacking is effective when used properly with piers.
Clearly, underpinning a home properly requires building knowledge and an understanding of loads and stresses. Underpinning a foundation should not be attempted unless you are a structural engineer or you have proven industry experience.